Historic Pleasant Grove Church
EVENTS
Historic Pleasant Grove Church offers several free events for the public, sponsored by the Friends of Pleasant Grove — from an informative Black History Month event in February and quaint Country Fair in May to a spirited Gospel Christmas Sing-Along in December.
Tours of the museum are available upon request or during public events. Contact us at 703-506-8270 or email us.
Public Events
Learn more about:
Rental Space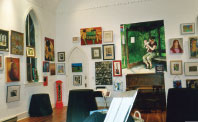 2007 art-show rental
The lovely Historic Pleasant Grove Church can be rented for a very reasonable fee for community events, including:
Community meetings
Art shows
Craft exhibits
Poetry readings
Family reunions
Musical recitals
Slide and video shows
Lectures
Contact us at 703-560-8270 or email us for more information. Note: the space holds up to 100 people and is not currently available for weddings.