Historic Pleasant Grove Church
HISTORY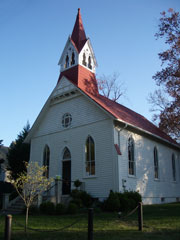 Pleasant Grove
Historic Pleasant Grove Church, built by African Americans and Native Americans, is an outstanding example of 19th century Virginia vernacular architecture. In 1882 the congregation, led by Samuel Sharper, began to raise funds to build a church. By 1893 they had enough money to purchase a piece of land and to start building. Lewis Henry Sharper, a master craftsman, did much of the carpentry. He was assisted by fellow church members who donated both their time and construction materials.
The building embodies their ideals in both design and craftsmanship. Following the Carpenter Gothic style commonly used for Virginia country churches, they produced a gem of a structure. It is a small but beautifully proportioned building. The lines are simple with no single overpowering element. Details, both interior and exterior, enhance the building's purity of form. The belfry and spire are particularly fine.
The first service was held in the church July 19, 1896. For the next seven decades the building was the center of the community. In addition to Sunday services, it was the setting for many celebrations, both religious and secular. In 1968, due to a declining membership, the members of Pleasant Grove joined with those of the William Watters Church. In 1980 the church was deconsecrated and sold. While the new owner stripped the church of many of its architectural elements, Pleasant Grove retains its solid craftsmanship, clean lines and simple charm.